It's hard to believe but 2010 is right around the corner. And many companies are working on their budgets and plans for next year. If this is you, just remember that there is a framework for creating your strategic marketing plan. It can be very easy to get lost in the process when you start thinking about goals, campaigns, budgets, messaging, vendors...and the list goes on.
If you find yourself in this position, you can download a copy of the Strategic Marketing Process eBook.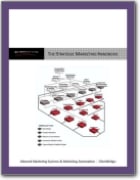 The eBook highlights the 29 different marketing subjects that make up the strategic marketing process. By flipping through this ebook, you will have a better understanding of how the subjects are interrelated and which ones to tackle first.