The Internet has dramatically changed the way people research purchases and buy products and services. However, many people still believe that the Internet is only for ecommerce companies like Amazon.com.

But just like consumers, business buyers are using search engines early and often in the buying process. A study among nearly 1,500 businesspeople and found that:
93% research business purchases online and 89% of that group uses a search engine
64% start the research process with a search engine
83% of business users prefer Google
Source: Enquiro Solutions

In fact, the higher the price point of the solution, the ealier in the sales process the buyer used a search engine for research.

Yet, many B2B companies are still in the very beginning stages of understanding search engine marketing and how to generate leads online.
So this post is the first of a series on search engine marketing. We are starting at the very beginning with an overview of the types of search engine results and we will work our way through a series of steps and best practices for getting started with Search Marketing.
Types of search results:
1) Organic or natural search: this is the section of the search engine results pages (SERPs) that are determined by the search engine algorithms. Organic rankings are very attractive because they are proven to be more trusted than paid listings and there is also no charge for being listed.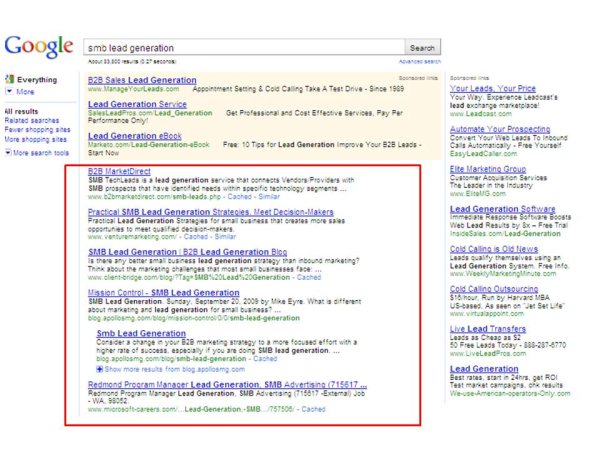 2) Paid or sponsored search: Paid search results are the listings shown on the right column of the SERPs and often on the top. These listings are shown as part of a paid advertising program such as Google Adwords. A company has much more control over their ability to get listed and which messages to display but there is a fee that goes along with that privilege.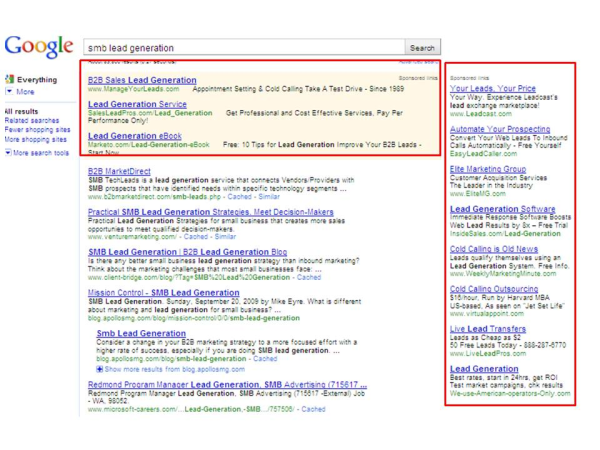 3) Local search: Local search is the section of the SERPs that is triggered by a search that is determined by the search engines to be targeted at a specific geographical region. A search of this nature often triggers local business listings plotted along a map. There is no charge for being listed in the local business listings but getting your listing shown over all other listings may take some focus and optimization.

For help determining which type of search marketing program to run, please check out the free guide below.
| | |
| --- | --- |
| | Use this guide to evaluate your search marketing options and select whether paid and/or organic search might make sense for your business. Download it now. |