Aggregate.com offers a download-able guide to business to business blogging trends for 2011.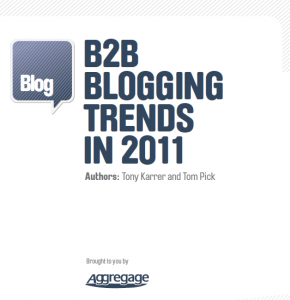 Highlights from the report:

B2B blogging is growing - Less than half of B2B companies currently have blogs, so there's still opportunity for growth. If you do it right, 2011 is a good year to start a blog.
B2B blogging has a high value - Blogging positions a company as a thought leader. Also ideal for SEO. Blogs become more important as traditional marketing becomes less effective.

Blogs need to be integrated - Blogging needs to be part of the overall marketing and communications plan. Blogs can be the social media hub of B2B companies

Do it better - You have to be good to rise above the noise. Listen first, then engage. Be customer focused. Have more personalized interaction. Put an employee face on the blog, rather than having the brand be the face of the blog.

Curation - Find and filter content that will be interesting to your audience. You don't have to produce all the content. Collect the best content from thought leaders.

Download the White Paper Here