Goals are powerful. They motivate us, keep us accountable and always push us to get better. However, many people set goals that arent' realistic or measureable.
Try using the SMART goals framework for setting more effective goals for yourself and your business.
SMART is an acronym standing for:
Specific - target a specific outcome for achievement
Measurable - make sure you can measure whether or not you acheived your goal.
Attainable - Lofty goals can be motivating until they never get achieved. Make sure goals are attainable. If they are not realistic, you may have to "chunk them down" into smaller goals.
Relevant - Does the goal relate back to the overall end goal
Timebound - When is the goal going to be achieved?
For marketers, it might be useful to categorize your goals in either (Visits, Leads or Customers).

Sample goal:
Increase website visits by 50% (from 5000 to 7500) by August 31, 2014.

Now that you have a solid framework for setting goals, go ahead and set some. If you are using HubSpot, you can now set goals directly in the system.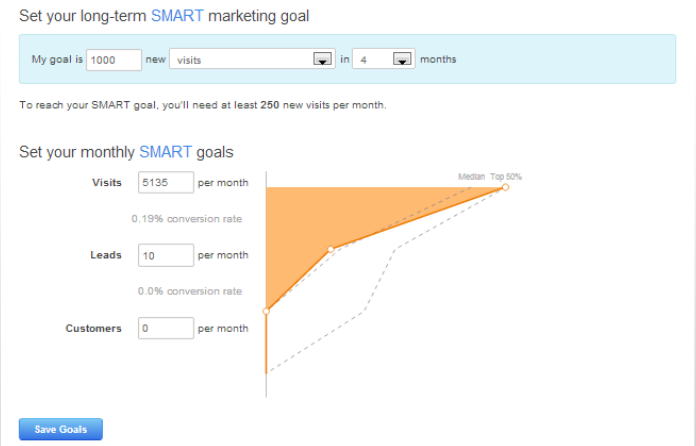 Another useful goal-setting tool in HubSpot is the benchmark feature. While setting goals, you can use this information to determine how realistic and attainable your SMART goals might be. The example below shows the key metrics from over 7000 HubSpot customers, including visits, leads and customers of your business and that of the median and top 50% of all HubSpot customers.

If you found this information useful, download the entire Inbound Marketing Checklist for Runningn an Inbound Marketing Campaign.