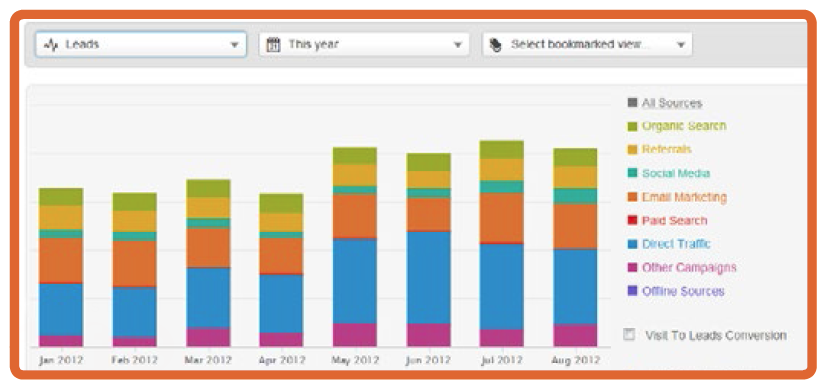 Setting up closed loop reporting allows you to track your key marketing and sales metrics in order to identify what marketing programs are contributing to leads, opportunities and sales. The reporting system consists of two main components: marketing software, for lead generation and advanced analytics, and a CRM (customer relationship management) system, to track and measure sales activities.
When a marketing software platform and CRM system are integrated, the two are able to share data from every lead, beginning with the original source of the lead and ending with the close. This enables you to develop reports showing close rates and new customers from leads generated through marketing. For this reason, many marketing software platforms are automatically integrated with popular CRM systems.
Your closed-loop reporting system should also feature:
Automatic, two-way synchronization between the marketing platform and CRM.
De-duplication of leads that allow you to update existing lead records.
The capability to pull information from your CRM system into your marketing platform to allow you to segment leads.
Sharing Information When Setting Up Closed Loop Reporting
Sharing information between the two platforms is beneficial for both your marketing and your sales team. For instance, sharing complete lead intelligence, including the history of leads' activity, helps sales reps to plan their follow up strategies and find hooks to begin their first conversations. In addition, marketing software can provide lead alerts whenever hot leads revisit your website, respond to a campaign, or take any other trigger action.
Equally, sales should share data with marketing including contact touches (records of email and call attempts or connects), lead status updates, and revenue numbers, such as data on closed deals and the revenue linked with to each contact.
Utilizing Closed Loop Reporting to Identify Top Marketing Channels
By setting up closed-loop reporting, you are able to track marketing programs and determine which are the most effective by examining metrics including:
Number of visits per channel
Leads per channel
Visit to lead ratios per channel
Lead to customer ratios per channel
You can't manage what you can't measure. Closed-loop reporting provides executives with the actionable information needed to make sales and marketing investment decisions which can drive predictable and profitable revenue growth.